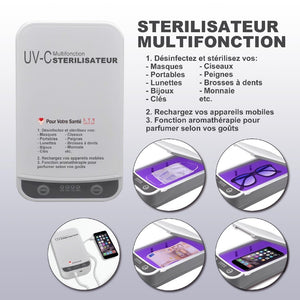 UV-C STERILIZATION BOX
Regular price $55.00 $27.00 Sale
UV sterilization box. Kills up to 99.9% of bacteria and viruses
Ideal for disinfecting our everyday objects such as our laptops, keys, jewelry, fabrics or any objects before use at home.
Thanks to your UV sterilization box, protect your interior from bacteria and viruses from the outside
Principle of UV light, it destroys by the intensity of its rays the molecular chains of the DNA of microbes, thus preventing its reproduction and its propagation.
An additional gesture in the fight against viruses.

Product dimension: 22 x 12.6 x 5.5cm
Rated voltage 5V
UV wavelength: UV-C (253.7nm)
Radiation intensity: > 2500uw/ cm²
Disinfection time: 3min
CE standard
Available in white
USB output to charge your mobile
Usage tips:
The end of disinfection will be signaled by the end of flashing of the indicator

You can open the lid during the disinfection process without danger. However, for an optimization of the complete destruction of microbes, germs and others, it is preferable to respect the sterilization time.

Once the lid is lifted, decontamination will stop instantly. It will be necessary to reset the process once the lid is closed

The lamp switches off automatically when the cover is opened.
Product delivered in its packaging including:
UV sterilization box

1 USB charging cable

User Manual