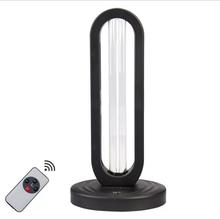 UV-C + OZONE DISINFECTION LAMP
Regular price $61.00 Sale
A healthy atmosphere

Easy to use, fast, chemical free, effortless...you can disinfect effectively!
How to disinfect without having to use harsh chemicals?
Unlike chemical approaches to water disinfection, UV light provides inactivation fast and effective microorganisms by a physical process.
When bacteria, viruses and protozoa are exposed to germicidal wavelengths of UV light, they are rendered unable to reproduce and become infected.
Effective in destroying mites, bed bugs and micro insects.
The health and food industries have used UV-C light for years.
These industries often do not use chemicals to disinfect their parts and tools. For what? Due to strict policies against the use of these harsh chemicals.
SO, what do they use instead? They use two things that occur in nature: light and oxygen, specifically a light wave called UV-C (the sun is the most important source of UV-C) and tri-oxygen or what is called ozone. And that is precisely what UV-C Sterilization Lamp uses.
NATURAL SOLUTION
These two natural solutions guarantee that your piece is at 99.99% free of bacteria, viruses, fungi and mould … All without compromising your health and that of your family. But it does not stop there.
UV-C Sterilization Lamp eliminates also bad odors and helps to repair part of the damage caused by the use of household chemicals. It does this by eliminating many other airborne toxins, such as formaldehyde.
Here's what the CDC says about the technology:
"The full UV spectrum can kill or inactivate many microorganisms, but UVC energy provides the most germicidal effect. It is effective for the destruction of airborne organisms or the inactivation of organisms on surfaces. »
By using UV-C Sterilization Lamp you will be able to eliminate viruses, bacteria and pathogens including
you didn't even know the presence
and of
reduce risk
illness for you or one of your family members.
Peace of mind

Made of quartz material, long service life, high transmission rate and better effect of

 

sterilization.
UV-C+Ozone kills germs and viruses in minutes, with the rate up to 99.99%.

 

Low density ozone, feel free to use it.
Portable can be used anywhere.
It can be used in the office for business or at home for individuals.
Delivered with :

1x UV-C Sterilization Lamp
1x Remote control
1x Box
1x How to use
FREE SHIPPING
WARRANTY 24 Months