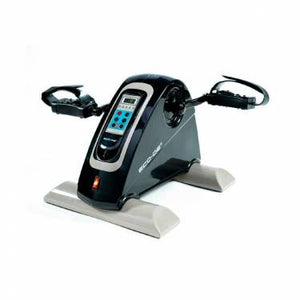 MOTORIZED MINI CRANKSET Passive or Active mode
Regular price $279.00 $190.00 Sale
The Mini Electric Crankset is really practical for doing sports in an easy and comfortable way.
It helps to tone the muscles of the arms and legs.
It has multiple functions, which are suitable for the needs of different types of users.
You can combine the different types of use for better results depending on your needs.
Its use is recommended for people of all ages, regardless of their physical condition.
It can be used forward or backward depending on your needs.
Any cardiovascular exercise that is practiced will be good for your health, as it helps to improve the resistance of the heart, contributes to weight loss and burns fat.
The mini electric bike offers advantages in these areas:
• Helps improve cardiovascular rhythm.
• Helps burn calories.
• Increases blood pressure.
• Arm and leg muscles are toned and remain flexible.
• To maintain physical health, continuous use, three times a week, is recommended.
DESCRIPTION
. Motorized or manually assisted pedaling forwards and backwards. . 12 speed levels.
. 3, 4, 5 and 6 km/h motor. (100% passive)
. Can be used without the motor (100% active)
. Programmable exercise time: 3, 6, 9 or 12 minutes.
. 6 programs: One manual and 5 automatic
. Display of speed, time, distance and calories
. Remote control to control speed and time
. Visualization of: speed, time, distance and calories burned.
. Ergonomic pedals for the hands too
. Includes a system called ECO FRIENDLY, which consumes 25% less energy
Product dimensions: 42.5 x 29 x 21 cm
Dimensions of the box: 44.5 x 31 x 44.5 cm
Weight: 6 Kg
Power / Frequency- 220/230 V 50-60 HZ 70W